Support teams in unleashing their FULL Human Potential
The FULL POTENTIAL TEAM FACILITATION TRAINING is designed to equip you as a facilitator with everything you need to support teams in unleashing their FULL Human Potential and to get you intimately connected to the framework of the 5 Team measures that enable teams to thrive in this process of growth and transformation.
Teams are the 'molecular units' of any organization – usually consisting of anything between 2  to 20 persons – where people work together around a common task, where innovative ideas are conceived and tested and bottom-line results are achieved. Any company, any organization is composed of teams. Things happen within teams and between teams.
Bringing a TEAM to unfold its FULL Potential is a key success factor in any organization, small or big. And it is also a challenge. What we found missing was a way of measuring the decisive factors that enable a team to move from average/good to great and a framework to support that.
This is why we created the FULL Potential TEAM assessment to measure what we consider are the 5 mindsets that characterize a FULL Potential Team. Getting awareness on and committing to consistently invest in these 5 TEAM measures will make a huge difference in the ability of any team to show up in its FULL Potential.
BENEFITS OF THE FULL POTENTIAL TEAM FACILITATION TRAINING
if you sense this is the year for you to start or expand working with TEAMS,
if you are interested in a "DOOR OPENER" and proven method to transform your client's teams and bring their inherent Full Potential to life, or
if you want to expand your expertise in TEAM facilitation and would like to gain confidence and full proficiency in CREATING and FACILITATING a Team Discovery workshop
…then this is a powerful opportunity to become a Human Potential TEAM EXPERT and FACILITATOR.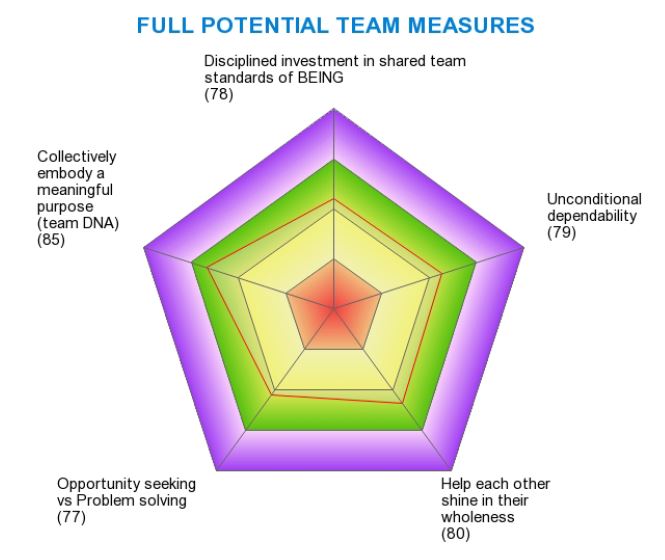 The FULL POTENTIAL TEAM FACILITATION TRAINING is designed for you
to have a deep insight in and understanding of the 5 Full Potential TEAM measures
to have inspiration and knowledge on how to design the flow of a Human Potential TEAM Discovery workshop
to discover your unique style of creating a BEING space
to learn how to facilitate powerful conversations and work with the data of the TEAM assessment, applying the Being at Full Potential unique exploratory approach
to acquire concrete formats, tools, exercises and practices to tailor the workshop to your clients' needs
to confidently be able to pitch this work to your (prospective) clients
During the  training, we will create a BEING space in which we will immerse ourselves in the 5 Full Potential Team measures, learn from real case studies and work experientially with the team data.  Participants will also have the opportunity to experience the Human Potential TEAM assessment tool online prior to the training.
Testimonials from past participants
The HP Assessment Tool is not just another HR, leadership or personal growth tool. It is a gateway to new possibilities, that are bedded in the essence of who we are and could be. It touches those deep and delicate places in us, our cultures and organizations, that foster the strength to create bold and transformational changes.
I am SO impressed with the HP instrument to stimulate powerful conversations! Simply opening up questions about a few dimensions on the instrument and inviting inquiry into the intersections revealed by it led to a GREAT conversation! I am really looking forward to future use with my clients.
If your heartfelt desire is to build a prosperous enterprise in Life, whatever is the form, you need to start with the true foundations of your home. The Human Potential Assessment Tool makes the invisible visible, through a clear, concrete and accessible framework for individuals and organizations.