In this 3-part series we share the insights that emerged from our Human Potential Summit in September. During these two and a half days, 20 visionary change-makers came together to look at the theme of SUSTAINABILITY through fresh eyes. We took an honest look at the current state of affairs, painted a compelling vision of a future reality and experimented with new mindsets, language, behaviours and rituals. In the depth of this experimentation we discovered what it takes to move from a Sustainability to a Thrive-Ability paradigm.
In the first part of this article we broke down all the different ways in which Sustainability can drive the performance of an organization, and identified HUMAN POTENTIAL Realization as the next frontier for value creation. In the second part of we explored in more details WHY it is imperative that we move from a SUSTAINABILITY to a THRIVE-ABILITY paradigm and WHAT this means in the context of organizations. Now, in the third part we share some thoughts on the HOW – How do we go about making Thrive-Ability the new reality. It's actually much simpler than one might think.
1. "Show up" authentically:
How to go about creating thrive-able organizations where every individual is connected to the organizational purpose and fully engaged? We simply need to 'show up' in our full authenticity and step into our personal leadership power. This may seem oversimplified but it is the most crucial step for inviting self-management / leadership / organization and personal buy-in. Without it nothing gets done and before long the organization will revert back to traditional methods such as hierarchical structures, reward schemes, 360 feedbacks, scrum or the many other management techniques that are no longer serving us.
2. Co-create a set of STANDARDS:
So what is needed in order to show up? A safe environment, upheld by some important standards is a key enabler here. Think of: trust, intrinsic motivation, a readiness to engage, vulnerability, playfulness, non-judgement, respect, curiosity, courage, humor, openness, inclusion, appreciation, awareness, room for mistakes, lightness, confidentiality etc. Would you show up in any situation or would you also require at least some of the standards mentioned to be in place in order to 'show yourself'?
So setting clear standards before you embark on any transformation is key. And the standards need to be established together and embraced by everyone involved. The latter is crucial for two reasons. One: it gives every person the possibility to say yes OR no to the process. Both have consequences. Saying no may also imply saying goodbye and leaving the organization (again: the fact that the standards were created by all and not imposed makes a huge difference here – there is no take it or leave. It is a far more inclusive and respectful process. No hard feelings but respect for individual truths). And secondly: it helps to remind people of the standards later on in the process. In the heat of the moment, pointing out standards such as respect and openness helps to overcome differences.
3. Walk the talk:
What else is needed to show up? Walk the talk. Exemplary behavior is hugely inviting. Who doesn't know stories of leaders/managers preaching modesty and doing the exact opposite themselves? Bad role models have a huge impact on trust and moral. Reversely, good role models inspire others to follow, choose 'The Daring Way (Brene Brown) and step into the arena.  Courageous vulnerability begins with leaders on all levels. Just imagine seeing a leader discovering and embracing his or her full potential and share this publicly – how inspiring would that be? And having the standards in place it is a clear invitation to follow suit. And again, leaders could be sitting on the Board, but could very well also be at all levels of the workspace. 10% of each organization are considered to be front-runners, people who are eagerly embracing new things, are in discovery mode almost all the time and could 'lead the way'. So preparing that 10% to dive and delve deep into their Human Potential can tip the scale for the whole organization to shift towards thrive-ability.
4. Create new rituals:
In order for all of these great things to happen, and importantly become new habits that shift the culture of the organization, it is critically important to establish a new set of rituals. A set of carefully designed rituals is a powerful way to put into practice the good intentions of the organization. For example if we want to encourage a culture of listening and respecting each other's point of view, why not introduce the ritual of a talking stick? This ritual is used by many indigenous tribes. For example, in a tribal council circle, a talking stick is passed around from member to member allowing only the person holding the stick to speak. This enables all those present at a council meeting to be heard, especially those who may be shy. Talking sticks have high ceremonial and spiritual value, and have proved to be exceedingly useful to bring out both the individual and collective potential of a group. Other simple interventions might include practicing gratitude at the beginning and end of each day or organizing meetings in a circle where each person is showing up as a equal. The practice of checking in and checking out before and after meetings is also a powerful way to connect with our intuition and let the important topics surface in the moment rather than rely on a pre-defined agenda.
During the Summit we experimented with all of these rituals and it became exceedingly obvious how powerful they are in creating conditions for mutual understanding, collaboration, inspiration and creativity. In contrast with complex and time consuming change management programs, rituals are an extremely easy, and surprisingly effective, way of encouraging new behaviours and improving the output of an organization.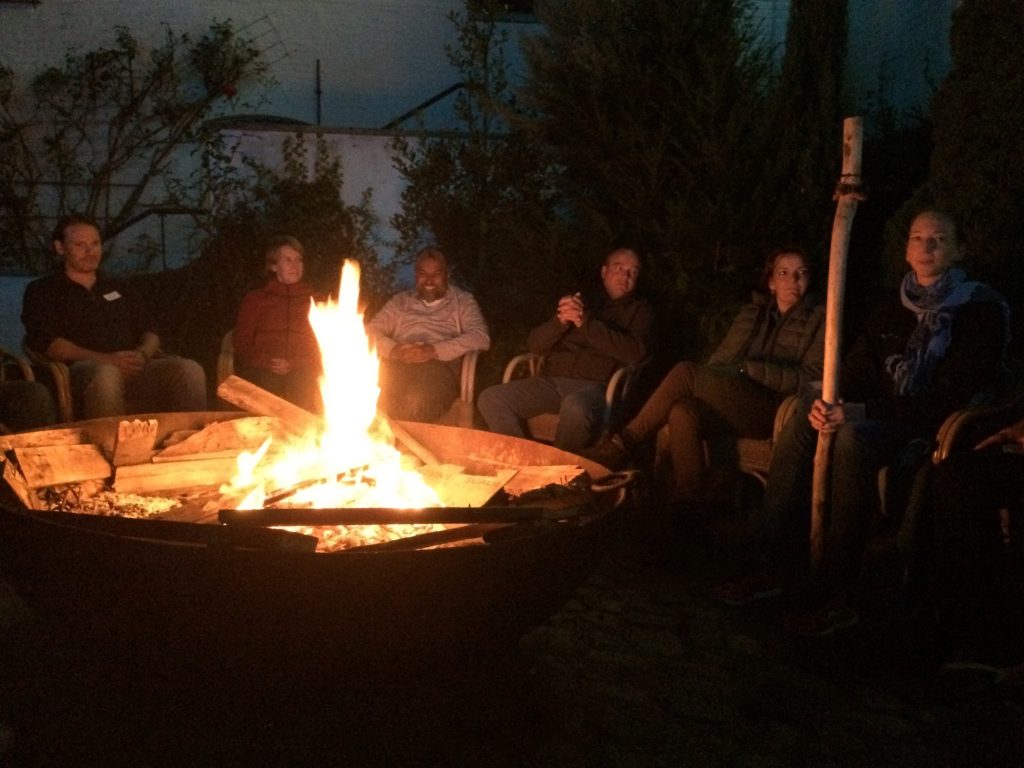 SUMMARY & NEXT STEPS:
We have covered a lot in this paper. The first section looked at the current Sustainability context and isolated the "top of the pyramid People P" as an incredible opportunity to expand the Sustainability movement into the realm of Thrive-ability. We then explored why this shift is so critical at this moment in time and, based on our collective experience at the Summit for Human Potential realization, imagined what the organizations of the future might look like. Finally, we shared our insights on the specific changes that organizations need to embrace in order to move into the Thrive-ability paradigm.
Although there is already tremendous wisdom captured in this document, we recognize that there are significant challenges in translating these ideas & summit experiences into the day to day work environments of most organizations. We recognize the need to make these ideas even more relevant and accessible before they can be adopted more broadly. Therefore we want to share with you a number of other resources that make up the Being at Full Potential portfolio of products and services.
Specifically, the Human Potential Assessment tool allows organizations to put real numbers behind the all important, but often intangible, human dimensions of an organization. In addition to quantifying Human Potential and isolating the main levers, we also offer a unique methodology to enable buy-in from the key stakeholders and a commitment to the transformation process.
For further information about these tools or methods, please contact one of our certified Human Potential Coaches.