Time for a retrospective.
One year ago we kicked off an initiative called "Conversations That Matter". The intention was to create an open space, every two weeks, where we could explore one of the dimensions of the Human Potential House framework. To navigate through all 23 dimensions of the House would be a one year long commitment.
Given the richness and depth of each one of these human qualities I knew going in that it would be a fulfilling experience. I also knew that an exercise like this would inevitably infuse life into the newly developed Platform for Human Potential Development and give us an opportunity to experiment and practice the many resources available for each of these dimensions. What I didn't know was who would show up for these sessions, how we would fill the hour together, and what it would take to maintain the momentum of this initiative over an entire year.
Yesterday we arrived at the end of the series. Coincidentally, the final dimension that we covered was "Holistic View". So naturally, it invited us to step back and look at the unfolding of this series from a broader perspective. It gave me the opportunity to ask the following questions:
What was this experiment really about?
How did it evolve over time?
What impact did it have?
Where does it go next?
Here are some of the insights I would like to share:
From a HOUSE to a HOME. At the core, this journey represents a journey back HOME to who we really are. Each dimension opens a door to our true nature. When we take time to connect and sense into human qualities like gratitude, curiosity and passion, we quickly enter a rich space of sharing and insight that nurtures the soul, opens the heart and inspires shifts in how we show up for others. Although I have been working with this framework for many years, I realize there are always new layers to discover based on where we are on our journey and who we are sharing the conversation with. The more I work with the House, the more it feels like a Home.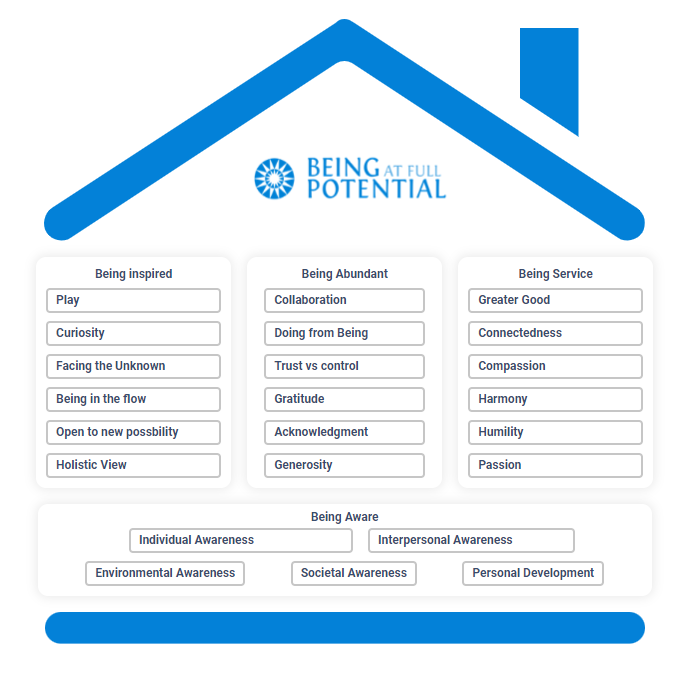 The power of the space grows over time. During the last session one of the participants, who was joining for the first time, commented on the quality of the space and was wondering what made it so special. She appreciated how we were embodying the topic of the conversation rather than simply talking about it, or around it. I immediately knew that what we were experiencing was not a magic recipe that could easily be reapplied. Instead, it was an accumulated effect of the dedicated efforts we collectively put into this initiative over the past year. Like anything new, the first steps are awkward. We try to find our way and experiment with different approaches, until eventually a natural rhythm starts to settle in. It's this disciplined commitment over time that allows each experience to build on the previous one and makes the power of a space grow over time.
Success beyond numbers. Some things simply cannot be measured, yet we know the impact is real. For example, a mother's love is not dependent on a certain outcome or result, nor does it expect anything in return.Yet in the context of "work" we are all too eager to seek external validation and judge the value of our effort based on social media engagement or the number of sign ups to a program. At times throughout the year I got caught up in this as well. I would wonder if having 2 or 3 people show up for the session was really worth the effort but this never lasted very long. The fulfillment, joy and creative inspiration I received was priceless. Every two weeks I had new material to write a LinkedIn post both as an introduction to the session and then another one to capture the essence of what we experienced together. Over the course of this journey I started to develop a deeper trust in the subtle, less visible ways our efforts ripple out and impact the people and environments around us.
Every end is an invitation for a new beginning. Although this series has come to a close, I know there is a next step to take, one that will open up new potential and further expand the impact of this work (both visible and invisible). I will take the next couple of weeks to gather some more feedback and sense how this can be taken forward. Please reach out if you have ideas, suggestions or a desire to co-create.
Finally, I would like to express my deep gratitude for all the people who have joined and contributed to the conversations that matter over the past year. It's these moments of deep sharing and connection that bring meaning and joy to my life.