Over the past months I have shared little stories to highlight the human qualities that I deeply appreciate in the people I work with. Each of these stories represents one dimension, or "brick" of the Human Potential House illustrated below. Brought together, this framework is a powerful map for any individual, team or organization committed to expressing its full potential.
Furthermore, with the Human Potential Assessment we are able to measure the extent to which these essential human qualities are expressed at a given point in time. Mirroring this back to our clients leads to deeply insightful conversations and profound clarity on the interventions that foster a greater sense of purpose, meaning , fulfillment and impact in both work and life.
Thank to all the friends and colleagues who inspired me with this initiative: Marco Angelini, Peter Leong, Marie Josee Smulders, Sujith Ravindran, Fabio Salvadori, Annelieke Verkerk, Vanessa Jane Smith, Geoff Swannell, Mathew Cherian, Rodrigo Martínez Romero, Laura Saldivar Luna, Nathalie Bayol, Kannan Swaminathan, Luca Salvini, Harmen van Dijk, Michael J. Dawkins, Hughes Mileng, Shraddha Patel.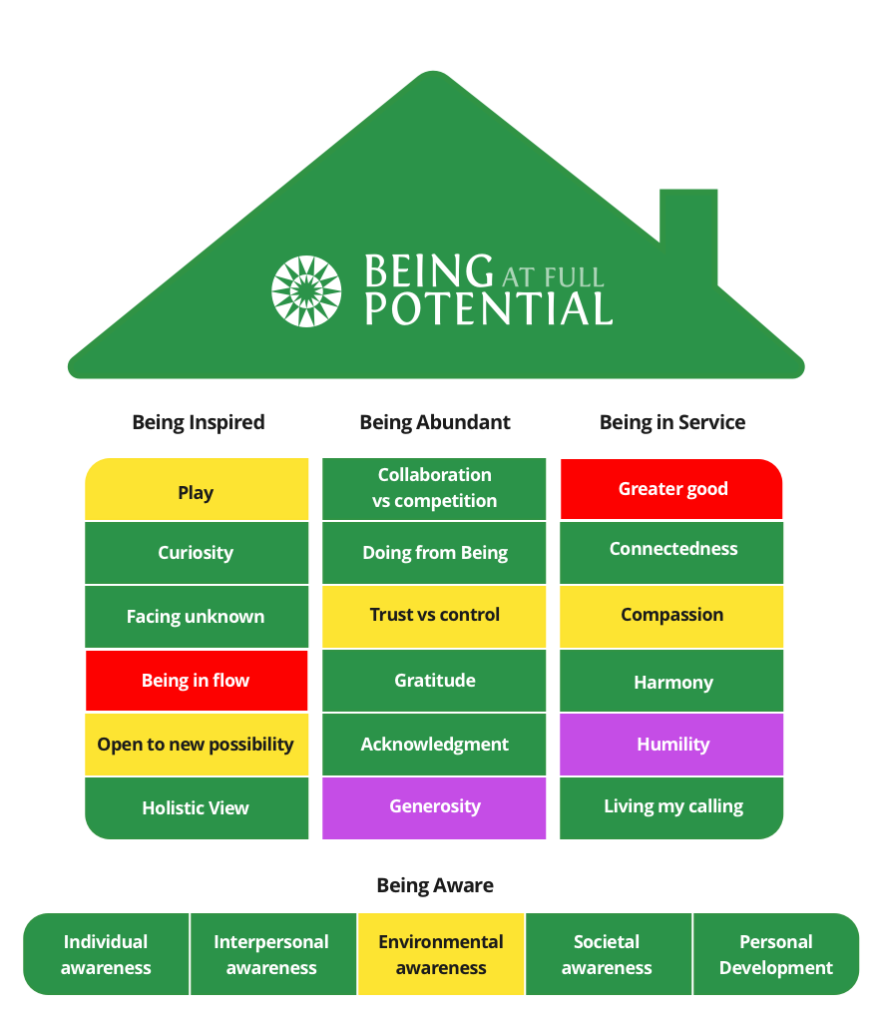 BEING AWARE

It takes courage to go on a journey of self-discovery. More often than not it reveals aspects of ourselves that are misaligned with our current life choices. It takes a whole other level of courage to then follow through on these new "revelations" and realign our lives accordingly.

When we live our lives with such a high level of integrity some doors will close. We might feel alone and misunderstood but eventually it will reveal new opportunities that we couldn't have imagined before.

Who do you know that is unwilling to compromise on their values and ready to assume the consequences? Feel free to tag them in the comments below!

2 people stand out when I think of the Interpersonal Awareness dimension of the Human Potential House: Nathalie Bayol and Kannan Swaminathan.

Both have the unique ability to read into situations, understand the other person's perspective and respond with patience and care.

As somebody who can be a bit impulsive at times, I have learned a lot from you and continue to be inspired by your high level of interpersonal maturity.

Our capacity to grow and realize our potential is often a function of the people we surround ourselves with. The more supportive they are, the more likely we are to stretch into new territory.

It gets a bit tricky when our desire to "support" gets mixed up with our own projections of what we believe is right for the people we love. I find this tension especially present when it comes to our children. At what point is "parental guidance" no longer needed? At what point can we simply show up as a friend who listens and unconditionally supports the self discovery process?

For me, that moment came last Friday when my son turned 18. This is an extract of the message I shared to show my commitment to evolve and expand my relationship with him:

As you step into 18, Another layer of life comes into being, Keep exploring, keep discovering, Finding novelty in the open land, And wonder in a grain of sand. I wish the world I send you off into was in better shape, Your future isn't handed to you on a silver plate, But because of who you've become, I know for sure it's not too late.

Just remember, When you look carefully through the clutter, What remains, Is pure beauty and wonder. Although my job as father is slowly coming to an end, I want you to know, That I will always be here for you, As a friend

For many of us it's been another year of "holding space" in the eye of the COVID storm. But unlike 2020, where this global phenomenon seemed to bring us together in our shared humanity, 2021 was more divisive.

Either we followed the science or we believed in a conspiracy, either we did the right thing for the collective good or we were inconsiderate and dangerous, either we were vaccinated or not.

In 2021, everything appeared to be black and white, leaving little space for open, constructive dialogue. In our desire to return to "normal" we have allowed the allure of a quick fix to narrow the conversation and momentarily distract us from the bigger issues we should be putting our attention on.

As we get ready to enter the new year, which conversations do you think we should prioritize in 2022 to grow in our #societalawareness?

Every morning Fabio Salvadori sits down with a blank sheet of paper and writes. In these 30 mins he expresses whatever is moving inside of him at that moment and then shares his insight with the world.

What I find most beautiful about his writing is that it almost always comes down to a shift in his own thinking. He offers fresh perspectives on common challenges – like a morning yoga session for mind & spirit.

These "Daily Apples" as he likes to call them are at the core of the self-development process and, in doing so, they reveal the leader within.

BEING INSPIRED

As children, PLAY is part of our natural state of being. Then, somewhere along the way, we lose touch with this innocence and wonder that so easily fills our life with joy.

That's why it's so special when we come across individuals who, irrespective their age, keep this youthful flame alive in all aspects of their life.

Geoff Swannell is one of these beautiful people. Thank you Geoff for your playful presence that makes our collaborations such joyful, creative experiences.

Thank you Marco Angelini for so beautifully bringing to life the 23 dimensions of the Human Potential House.

Today I present "Curiosity": the ability to look at the world with fresh eyes. How much of this quality is being expressed in your life today & in what way does it unleash potential?

Personally, I've been working on seeing the world through the eyes of my 18 year old son. Whenever I manage to do this, it builds connection, compassion and respect.

When Vanessa Jane Smith stands in front of a large, blank sheet of paper, and gets ready to draw the essence of a conversation that is about to unfold in a group, she switches off her mind, takes a deep breath and surrenders to the unknown. The moment her crayons make contact with this empty canvas, a magical flow takes over.

I have been fortunate to witness on many occasions this deep trust that she has in the collective space. Her presence awakens generative conversations and the visual story that emerges becomes the mirror through which the group (re)discovers their own brilliance.

This dimension of the Human Potential House brings to mind a mountain or solid oak tree. No matter how turbulent the external conditions are, it remains firmly grounded and centered at the core.

This same quality is what many of us value about our friend Sujith Ravindran. His steadfast acceptance of "what is" brings a sense of calm, trust and freedom to those around him.

Thank you Sujith for being such a wonderful example of Being in Flow.

I came across a cartoon this morning that beautifully illustrates the Open to New Possibilities dimension of the Human Potential House:

One person asks: "Aren't you terrified of what 2022 could be like? Everything is so messed up…"

The other person (who is working in his garden) responds: "I think it will bring flowers. WHY you ask? Because I'm planting flowers"!

Hughes Mileng is an expansive and holistic thinker who helps us see the world through new light. What appears broken to most of us, Hughes sees as whole.

For example, he refuses to label his home country Papua New Guinea as a developing nation. By looking beyond limiting measures like GDP, Hughes is able to shine light on the intangible value of culture, beauty and the generous people of his beloved land. He brings this same abundant spirit to the people and the organizations that he serves.

BEING ABUNDANT

Luca Salvini has opened my eyes to the power of "open-source". This is the principle that everything created by a community is openly available for everyone to use, modify and further build upon. I have come to appreciate how this abundant approach to collaboration not only unlocks greater creativity and innovation but is also the key to multiplying the impact of an initiative.

Thank you Luca for being such a great role model for me to learn from. Your many contributions continue to nourish the collective BEING at Full Potential ecosystem.

"Doing from Being" is the dimension of the Human Potential House that looks at how much of our true potential is being expressed in our day-to-day life.

To illustrate this aspect of the Being at Full Potential framework, I share with you the story of how these cards were created.

One of our Italian Human Potential Coaches, Marco Angelini, saw an opportunity to support his clients by providing gentle reminders throughout the day of the dimensions they have chosen to work on.

He took the initiative to express his creativity and bring to life this deck of cards so his clients can print them out to stick them on their fridge or use them as a background image on their phone. In this way their self development intentions are kept top of mind throughout the day.

Thank you Marco Angelini for being such a great example of "Doing from Being"!

Trust in oneself and trust in the possibilities we know exist, but haven't yet manifested, is such a critical part of human potential realization, which is why this dimension sits right at the center of the Human Potential House.

I will always remember the first time Laura Saldivar Luna reached out to us sharing her bold vision, one in which she imagines a world where ALL children have the opportunity to thrive in their education.

She deeply trusts in the role her organization can play to create these system level changes, but also recognizes that these changes first need to be fully embodied by herself and the teams she works with.

In looking for the right partner to support her in this work, she once again trusted her intuition, which opened the door to a collaboration with BEING at Full Potential. Our work together was a great launchpad for her daring vision but the really hard work starts when the day-to-day reality sets in.

This is when the "new" and the "old" collide and our inner trust is really put to the test. It's her commitment to continue nurturing this vision while compassionately navigating the organizational constraints, that really distinguishes her as a leader.

When we are able to hold a challenging situation long enough – to simply be with it free of judgement and listen to it with an open heart – we start to get a glimpse of the gifts hidden beneath the surface. This is the essence of "Gratitude" as defined in the Human Potential House.

It's also one of the unique gifts that Harmen van Dijk brings to the BEING at Full Potential community. Thank you Harmen for fearlessly bringing attention to the deeper conversations that unlock new awareness and potential, and remind us of the abundance all around us.

When I met Marie Josee Smulders 8 years ago, she came to me and confidently stated: "Mark, you have a pure heart. It's time to step out of the shadows and radiate the full gift that you are." She was seeing potential in me that at the time I could not fully grasp.

However, Marie Josee Smulders doesn't easily give up. Her gentle, and sometimes not so gentle, reminders would always be the push that I needed to take the next step on my journey. Anyone who knows Marie Josee Smulders will surely agree that seeing potential in others and relentlessly acknowledging it until it manifests, is one of the great gifts she brings to the world.

Mathew Cherian has been one of the most loyal and trusted advisors in building the technical platform for BEING at Full Potential. I have always known him to be abundantly generous with his time, expertise and friendship. Admittedly, there have been moments when, through my narrow lens, I felt he was giving more than receiving.

However, I realize now that this unique quality that he embodies comes from a deep trust in the natural flow of giving and receiving. Mathew holds a much more expansive expression of generosity – one where the pure joy of being in service and making a meaningful difference is in itself a compelling reason to offer his gifts.

BEING IN SERVICE

This one goes out to Peter Leong. Your dedication to putting your wealth of experience and knowledge, as well as your generous heart, in service of the greater good is a gift to all of us.

Thank you for being such an inspiring friend and partner in this work. Thank you for so fully expressing this important dimension of the Human Potential House.

Rodrigo Martínez Romero is a natural connector who experiences the world as a unified web of interconnected relationships. He not only senses into the potential across different groups of people and projects , but he's also a master at connecting the dots of his own rich life experience.

This deep integration of who he is with what he does has given birth to the Spiritual Politics Lab, a Training & Research Center for Innovation on Political Leadership Education. In this work he brings together an international community of changemakers who take on social challenges from the healing strength of love and a rich inner life connected to purpose and meaning.

Perhaps there is something in you yearning to be part of a larger movement of social healing & transformation? You can connect with Rodrigo Martínez Romero to find out more.

"Youth are a window into the future. Allowing ourselves to be led by them."

Thank you Shraddha Patel for this profound expression of #compassion. It is a testimony of the deep heart connection you have with the younger generation.

You naturally see the world from their perspective and sense into the wisdom that is already there. From this standpoint, to "be in service" simply means allowing them to lead the way.

In this fast-paced, hyper connected world it has become even more important to create space for reflection and self care. This is the essence of the Harmony dimension of the Human Potential House.

When it comes to self care, there is no one-size-fits-all. Working with Michael J. Dawkins and the ph360/Shae program I am discovering the power of a personalized approach. Understanding my unique body type and genetic make up not only determines which kinds of food and exercise are most in sync with my system but it also gives me great insight how to respect and harness my natural energy flows.

This has opened up a new world for me and I am seeing the tangible benefits of a more individualized approach to self care. Please connect with Michael J. Dawkins or Michiel Schuurman if you would like to know more.

When I started this challenge to infuse more life into the 23 dimensions of the human Potential House,

I did not know if I would have the discipline to carry this out to the end,
I did not know where the inspiration for these 23 stories would come from,
I did not know if anyone would be paying attention.

But I did enter into this exercise with some awareness of what was in my control and what wasn't. The more I focused on the process instead of the outcome, the more it started to flow. It still takes time to craft these personal stories in a way that is relevant to a broader audience but it's deeply fulfilling and helps me further embody the essence of BEING at Full Potential.

Annelieke Verkerk embodies the essence of the "Living My Calling" dimension of the Human Potential House.

I remember the first time we met back in 2017 when she clearly articulated:

Why she felt drawn to BEING at Full Potential
How she saw it evolving in the future
The unique role she could play in helping us take the next step.

This unwavering commitment to Living her Calling and championing human potential has led to breakthroughs on multiple fronts: training programs, facilitation techniques, product development, community building and much more.

Thank you Annelieke Verkerk for the generous collaboration these past years. May it continue to grow and expand well into the future.