CHANGE
We believe every person is gifted with abundant potential.
We support individuals, teams, communities and organizations. Our approach to Human Potential realization aspires to elevate our state of BEING.
LEARN HOW WE CAN SERVE YOU
MEET OUR CLIENTS
The  beginning  of  an  organization's  Human  Potential  journey
Our Human Potential Methodology opens the door to breakthrough conversations, ideas and actions.
The HUMAN POTENTIAL Assessment and the initial report  is  only  the  beginning  of  an  organization's  Human  Potential  journey.  It simply  provides  the  top-line findings which is bound to open up deeper questions. Depending on the needs that arise from this report, in subsequent analyses, a deeper study of different divisions or levels of the organization can be done. Breaking the data in this way will open up more insights and clarity on the next steps. Following the ENQUIRE phase (see fig. 2 below) where the data and insights are revealed we encourage the key stakeholders to spend quality time in DISCOVERY during which time the insights are fully integrated and transformed into actionable next steps, fully owned by the organization.
DISCOVERY is about processing and integrating the insights so they can be transformed into actionable next steps, fully owned by the organization. During these 'Discovery' workshops (which typically last 2,5 days) the client is invited to look deeply into the current beliefs and assumptions that drive their business decisions today and make very deliberate choices on who they want to BE going forward. This involves "Subtracting" (the process of understanding the disconnects – or the shortfalls – along the various states and dimensions of the HUMAN POTENTIAL Assessment Model), "Passaging" (releasing control of the familiar processes used to arrive at solutions) and "Arrival" (seeing opportunities in uncertainties and allowing new possibilities to reveal themselves).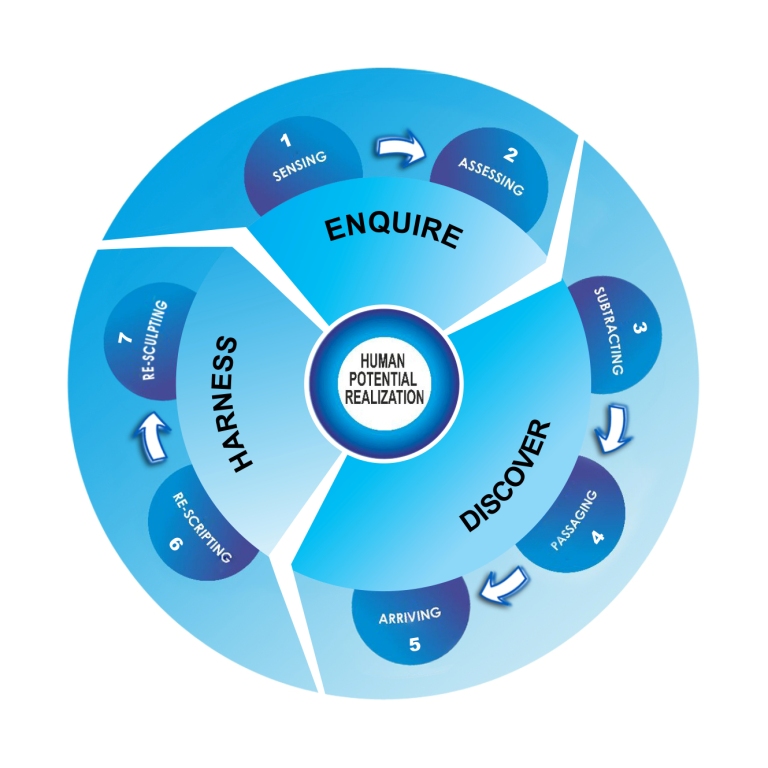 Finally, in the HARNESS phase, the organization is encouraged to visualize and speak about its new intentions in full details (via town-hall meetings or other) and start shaping them into a new implementation plan (Re-scripting). Targeted training and coaching programs are rolled out at the individual and group levels to make the new inner states a reality. Collectively new language and customs are adopted so that employees are engaged in more empowering ways. Management embraces new leadership habits, and the new consciousness is reflected in the management objectives and tools, like in the Business Balance Score Card (Re-sculpting).
Download an Individual, Professional, Team, Employability, or Organizational Human Potential Assessment Sample Report. Learn more about the BEING States and Dimensions. 
INDIVIDUALS
We love coaching individual change makers, social entrepreneurs and organizational leaders in business, politics and NGO's. We specialize in going deeper and helping you see beyond your day-to-day roles and responsibilities. We support you in re-connecting with the essence of who you are and why you are here.
LEARN HOW WE CAN SERVE YOU
CONTACT US
YOUNG & ASPIRING PROFESSIONALS
We know that creativity, entrepreneurship, craftsmanship and meaning, are the buzzwords of the future. This is not only what employers will come to expect from their people, it is also what the younger generation of more conscious leaders demand. The Future-of-Work is here.
LEARN HOW WE CAN SERVE YOU
CONTACT US
TEAMS
Discover the difference between a good performing Team and a FULL Potential Team. The Human Potential Assessment for teams accurately measures how a Team is performing. We can help you identify the HUMAN levers to help you get from where you are today to where you want to go.
LEARN HOW WE CAN SERVE YOU
CONTACT US
ORGANIZATIONS
What is the next value creation paradigm in organizations? We believe the answer lies in the unlocking of its HUMAN POTENTIAL. We are proposing a robust methodology to measure the extent to which the HUMAN POTENTIAL in your organization is being utilized, and to effectively harness it.
LEARN HOW WE CAN SERVE YOU
CONTACT US
POLITICS, GOVERNMENT & SOCIAL ACTION
The challenges of these times in preserving the planet for our children and addressing social inequalities and injustices have brought about a heightened sense of urgency in society, politics and government. Unfortunately in many parts of the world trust in politics and government is eroding and in some parts even absent.
LEARN HOW WE CAN SERVE YOU
CONTACT US
Testimonials
What They Say About Our Work
Together with HR, I have reviewed and endorsed the "Being At Full Potential" methodology and believe it could be a great enabler in our journey as a Team. Mark spent 9 years in Market Research at P&G. You will therefore understand why I entirely trust the solidity of the self-assessment survey he is offering us to take.
Virginie Helias
What a magical experience last week with our team. I would love to discover and see how the work within the team could be continued.
Michael Dawkins
We as Omega truly are inspired by your intent and we are experiencing a true partnership. We are really proud to have partnered with you.
Saravanavasan KS
Senior Director Human Resources, Omega Healthcare Management Services
I knew your process would be different than other ways to plan forward, but I failed to comprehend its power for pulling out new insights.
Andreas Schurek
Managing Director, TNS Switzerland
Today was a symbolic day in our journey of applying the Organizational Human Potential Assessment with our client: We finally registered more than 600 answers, which was the goal established by contract…THANK YOU very much for supporting the Team that will be delivering the B@FP debriefs with the client during the next weeks and months. I very much appreciated your sense of warmth, openness and continuous training and improvement.
Rodrigo Martinez-Romero
Coordinator for the Institute for Centered Growth, Mexico
I admit to having been sceptical at first about the process and the likely benefits it (the Human Potential Assessment) would bring but I'm fully converted into believing that I can bring about significant improvements to the way we work in our Islington store and put us in a good place for taking on any new projects in the future.
Paul Gardner
Owner, Budgens supermarket, London
The HP Assessment Tool is not just another HR, leadership or personal growth tool. It is a gateway to new possibilities, that are bedded in the essence of who we are and could be. It touches those deep and delicate places in us, our cultures and organizations, that foster the strength to create bold and transformational changes.
Training participant
Human Potential Certification Training
I am SO impressed with the HP instrument to stimulate powerful conversations! Simply opening up questions about a few dimensions on the instrument and inviting inquiry into the intersections revealed by it led to a GREAT conversation! I am really looking forward to future use with my clients.
Training participant
Human Potential Certification Training